There's no denying it. It's heavenly being out on the water when the skies are clear and there's a light breeze blowing off the ocean making gentle waves, which are shimmering in the sunlight. Or maybe your idea of heaven is the adrenaline rush of sailing a maxi-yacht through a big swell. Either way, what's not so blissful is having to worry about damage to your boat due to too much time in the water. When it comes to maintaining your vessel, the benefits of using a boat dry-docking system are many, but you have to make sure you have the right one.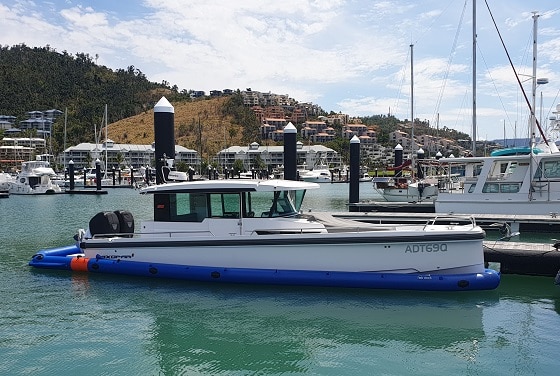 As a boating enthusiast, you value your time on the water, so you'll also value owning the best way to look after your vessel when you're not using it. A FAB Dock boat dry-docking system offers an ideal alternative to mooring your vessel submerged, whereby you have to apply chemical anti-fouling systems, which are damaging to the environment.
If you enjoy the marine lifestyle and respect the sensitive ecosystem of the sea, berthing your craft above the waterline is imperative to maintaining its condition and value overall, while helping protect the ocean and the creatures living in it. Saltwater combined with the sun's UV rays provide a harsh home for your beloved boat, so give her a reprieve from these tough conditions with a system that is really easy-to-use, cost-effective and eco-friendly.
Designed in 2011, and engineered to lift many types of boats, including keel yachts and power cruisers, the FAB Dock boat dry-docking system has a patented out-of-water sensor system that allows for various boat drives, including outboard, inboard, shaft, jet and IPS drives.
The dry-dock is simple to use, runs on a 12-volt power outlet and is completely self-contained, doing away with the need for external control boxes and power cords, which are a trip and electricity hazard along the jetty.
FAB Dock boat dry-docking system can be custom-built to fit vessels up to 100-feet-long, which include reinforced pockets around the drives, keels, intakes and rudders, so you're sure to find a solution to suit.
Whether you're an avid angler, a Saturday sailor or part of a racing crew, make your time on the water even more enjoyable, knowing your boat won't be exposed to the severe weathering conditions from extended time in saltwater.
For more information about the best boat dry-docking system on the market, contact FAB Dock in Australia, New Zealand or the United States.