Anyone who's owned a boat will know just how hard and costly they can be to maintain. Not only are you faced with the constant battle of keeping the hull clean and barnacle-free, but the wear and tear that comes with berthing your beloved vessel means expensive repairs are a constant risk.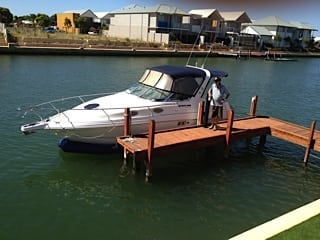 Fortunately, you'll find a time and money-saving solution in the form of FAB Dock, a revolutionary inflatable dry dock system that's proving a must-have for marine craft owners.
The Best Dry Docking Solution For Your Boat
FAB Dock is a dry docking method by which boats are protected from the harsh, saltwater environment when not in use. Operated using only the 12-volt on-board battery (or even solar power), it inflates quickly and safely upon the vessel being manoeuvred into position.
The 'ramp rage' and docking dramas that have plagued traditional berthing methods can be a thing of the past, as the soft, forgiving target provided by FAB Dock allows even novice navigators to bump their craft into its floating home with ease. You can avoid the damage associated with hazardous berthing, which aside from detracting from the aesthetic appeal of your boat, can negatively impact the resale value.
Environmentally Friendly Alternative to Antifoul 
Perhaps the biggest draw for the FAB Dock, however, lies in its ability to do away with the need for a yearly recoat of antifouling solution. As sea growth formation is naturally inhibited by dry docking, owners avoid altogether this ecologically harmful, messy, and time-consuming practice of painting with antifoul.
You'll save more than cost when you don't have to haul your boat out of the water, paint the hull, replace anodes, and clean the submerged components. The cost savings can roughly equate to paying off your individual dry dock in as little as three years, all while keeping your pride and joy in a condition that's sure to maximise fuel efficiency and performance. 
Offering a level of convenience, ease of use, and affordability scarcely seen in the maritime industry, FAB Dock makes sense for boatowners everywhere. 
To preserve your vessel with an inflatable dock system of your own, give the friendly team at FAB Dock a call on 1800 254 088.