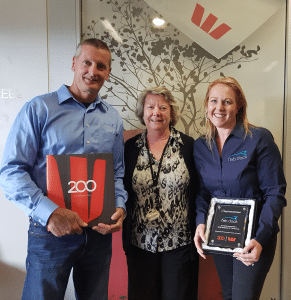 FAB Dock founder and CEO Dean Howard has one of the most gratifying jobs in the world, being able to give all his customers the "peace of mind" of knowing their boating investment is safer with our marine dock system.
One of the most common phrases I hear from our FAB Dock customers all over the world is the peace of mind they now have, seeing their boats are safely tucked away and no longer exposed to the ravages of the saltwater environment. Their vessel stays clean and dry inside their FAB Dock marine dock system, until they venture out next time to enjoy their boat.
I feel exactly the same way. Without seeming too biased, I could never own a boat again knowing I had to keep it in saltwater, particularly a stern drive. 
After another great weekend on our boat with my wife, we washed her, flushed her (the boat, not the wife), covered her up and now I am off for another few weeks in the United States to attend various boat shows [see our article on The Docks Expo in Nashville].
I'll also meet with other dealers and install more FAB Dock marine dock systems, this time in Florida as the knowledge of how amazing our product is spreading rapidly overseas. All this time I'm away, I'll be happy in the knowledge that my boat will be as clean and dry when I get home as it was the day that I left her. 
If you value your boat and your time spent enjoying it, consider what that's worth to you then include the value of our in-water marine dock system and you know it's the right investment for you.
Dean Howard, FAB Dock founder & CEO
How FAB Dock Works
The FAB Dock dry docking system literally wraps your boat with a protective layer on the water level. It acts like a shrink-wrapped skin between the water and your boat to keep it clean and dry, even while on the water with no environmental impact.
Most owners of leg, stern or shaft drives think the propeller will pierce the material, however, we've manufactured a hand-welded super-durable product, made from the best components in the world to withstand extreme conditions. 
Not only is your hull secured against saltwater damage, the in-water dry dock cannot be punctured by a propeller. If you have leg drive, we build custom pockets to fit the legs to protect your boat completely. Every cut, every seam has been analysed to ensure FAB Dock fits your boats perfectly. 
The environmentally sound FAB Dock system was in development for 9 years, undergoing rigorous testing, before it was launched on the market in 2011. During that time, it's proven itself time and time again as the "go to" for any boatowner wanting to protect their investment – from 17ft to 100ft vessels. 
FAB Dock is the world's leading in-water dry docking system.
Where to Buy
Contact the knowledgeable team at FAB Dock for an online quote. We have offices in Australia, New Zealand and the United States, proving the benefits of owning a marine dock system are far-reaching.