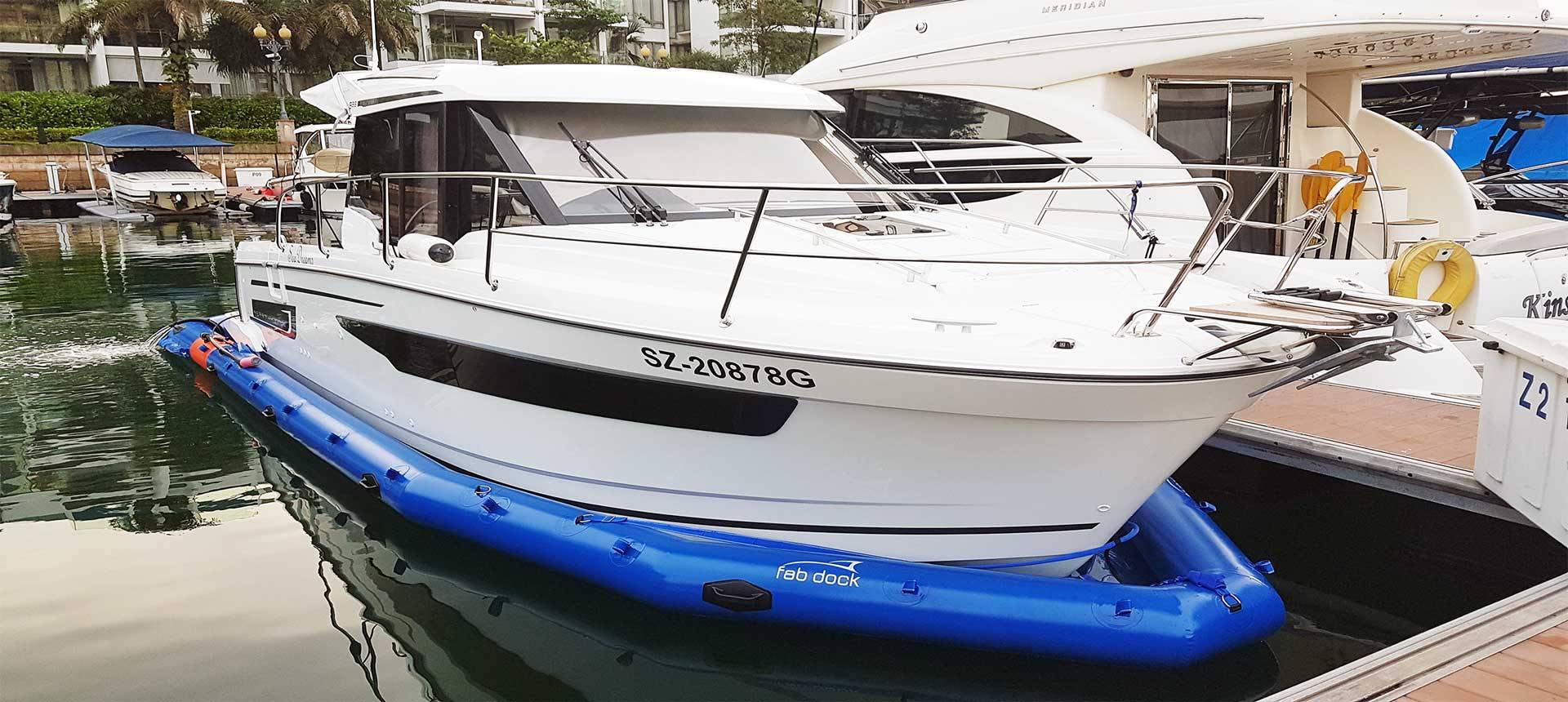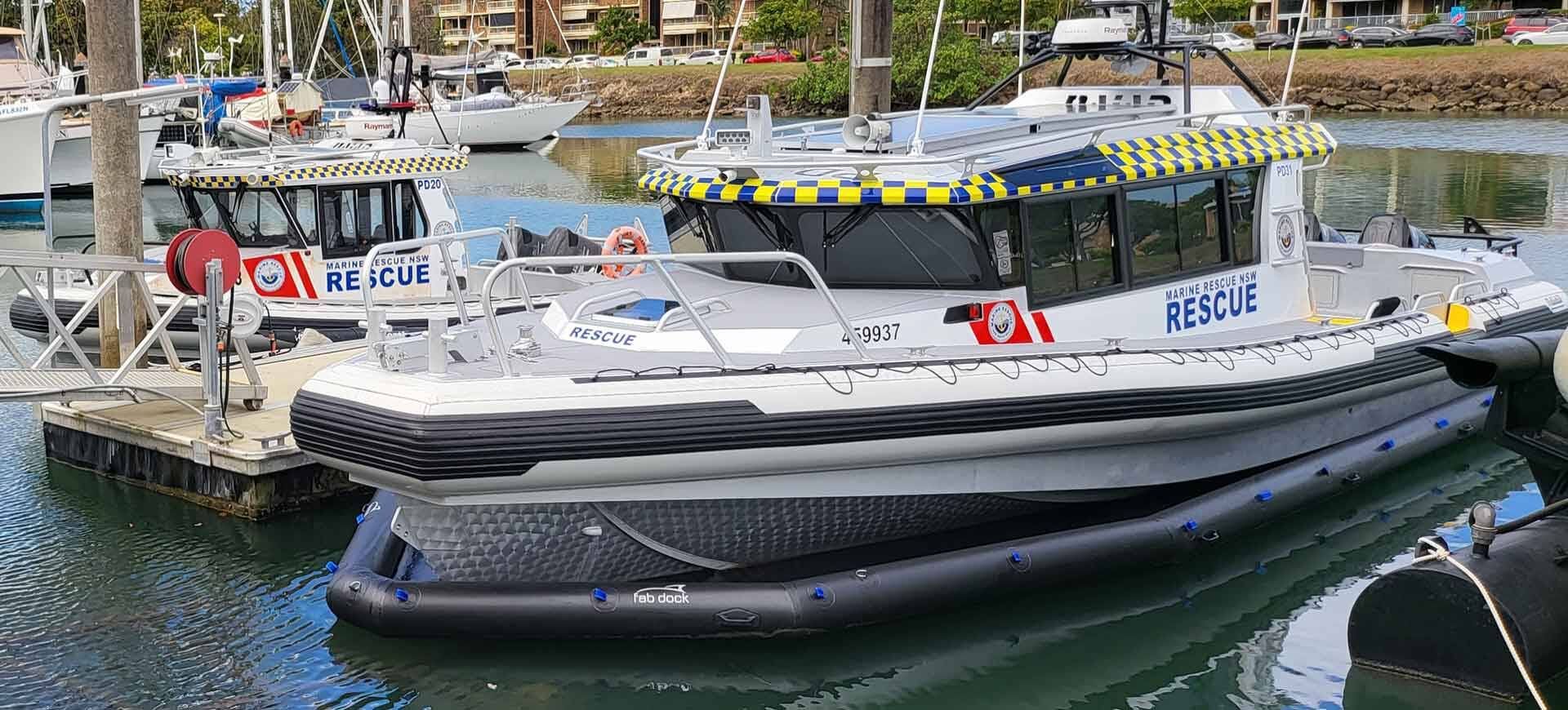 FabDock BW Dry Docking Solution
Experience the Convenience
No Fenders I No Antifoul I No Worries
FAB Dock – Your #1 Environmentally Friendly Dry Docking Solution
FabDock BW Dry Docking Solution
Protect Your Investment
Available world-wide in a range of sizes
17ft to 100ft
FAB Dock dry docks protect your vessel now and into the future
FabDock BW Dry Docking Solution
FAB Dock In Action
Protecting the Protectors
FAB Dock dry docks protect your vessel now and into the future
FAB Dock Your Leading Dry Dock Solution
Making Boating Easy
FAB Dock dry docking solutions are designed to make boating easy, keeping your boat clean and dry, so you can enjoy everything the boating lifestyle has to offer, hassle free. With ease of maintenance, portability, the environment and cost effectiveness in mind, we have analysed every cut, curve, seam, sleeve, pocket and angle to bring you one of the most superior dry docking solutions available world-wide today.
In addition to saving money and time, berthing your boat will never be easier, simply use your FAB Dock as a bumper to guide you in and reduce the risk of damage to your boat. Start enjoying the many benefits of FAB Dock with our pre-built, ready to go range. The peace of mind of knowing your boat will be as clean and dry as the day you put it away is only a call away.
Superior Craftsmanship
Constructed using quality materials and parts sourced from Europe, the US and Australia, and built by a skilled team with over 300+ years of combined experience, every minute detail has been analysed and tested to guarantee the longevity and performance of your FAB Dock.
Our Range
Choose from our selection of environmentally friendly, superior quality, jet ski dock, floating dock and dry docking systems.
Our Universal range is available in a range of sizes for vessels between 17ft to 44ft. We also have Custom Build options for larger vessels, multi-hulls and shaft drives.
Looking for a finance solution?
Enjoy the benefits of a Buy Now Pay Later solution - Contact our friendly team for more information on FAB Dock finance.
Gary & Elaine – Savvy Savers
Up until now our yearly hull maintenance costs have been around $3,000 per annum and now expect that to be…
David – Obsessed Boatie
Like most boat owners, I am very fond of my boat. Some people might even call it obsessive. As such…
Rod – Docking Specialist
Even in windy conditions the entry is no problem with the FAB Dock as it just flexes when the boat…
Deane – Enjoys Great Service
The FAB Dock works extremely well and the after sales service is even better
Craig & Karen – Enjoying Their Boat
Very pleased with the results, no marine growth on the hull or stern drives…There'll be no anti fouling happening this…
Colin – Has Everything He Needs
Exceptional product and exceptional service. Nothing too much trouble. My FAB Dock makes my boating so much easier and saves…
Milad – Family Boatie
The product is everything I had hoped and more. It is so easy to use, keeps my new boat clean…
Phil & Gaye – Sleeping Easy
The FAB Dock product is fantastic and I would recommend anyone with a boat sitting in salt water (particularly) to…
Get In Touch
Our products have been designed to be free of defects and perform optimally in the harsh salt water environment. Let our experienced team guide you to a low maintenance, cost effective and transportable dry docking solution to keep your boat clean and dry. With all FAB Dock systems backed by a comprehensive warranty guarantee, now is the right time to discover how FAB Dock can help you.