Formerly the domain of much larger vessels, recent advancements in affordability, portability, and ease of use has seen dry docking become the go-to method for keeping your personal marine craft in ship-shape year-round. 
While many seafarers have already hopped on board the concept of dry-docking for their pleasure-craft, the principles of floating docks are beneficial for any Sea Captain, as they can help save thousands while helping owners avoid the hassles associated with marine upkeep.
For the uninitiated, dry docking is a method by which boats can be raised from the water to perform repairs and preventative maintenance, as well as deep cleaning of the hull.
Traditionally a costly exercise, floating docks of old were often enormous steel structures, whereby ships would float in, then the water would be drained to allow the load to come to rest of a dry platform. Historically, dry docks were mechanically elevated and lowered, and required countless manhours and moving parts to function successfully.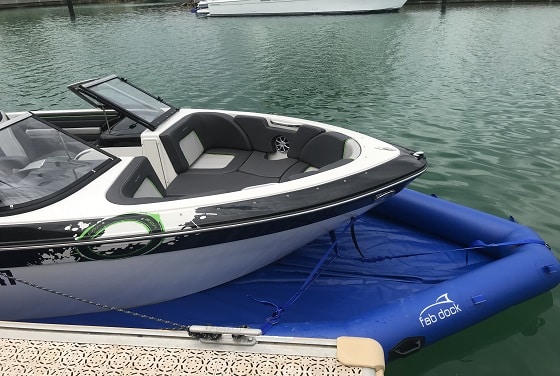 Thankfully for the modern boat owner, more practical methods for keeping your vessel high and dry have emerged. Modern dry docking solutions mean that not only can your boat be lifted from the water with ease, but it can also stay there indefinitely when not in use. This is due to transportable and customisable inflatables, which fit under the craft and gently hoist it until you want to sail it again. 
While your boat may be designed to handle the worst elements of the ocean, it certainly pays to allow it a rest from the harsh saltwater environment every now and then. Floating docks have been shown to not only reduce wear and tear on constantly submerged components such as legs, shafts, and propellers, they also protect vital inlet pipes from succumbing to sea growth and barnacle build-up. 
Effective floating docks also eliminate the need to apply a yearly recoat of the costly and environmentally harmful antifoul treatments, a highly toxic chemical paint that inhibits the formation of barnacle larvae on the hull.
Taking advantage of the time and money-saving benefits of dry-docking has never been easier, with industry experts FAB Dock creating a simple-to-use system that doesn't require any heavy lifting yourself.
Providing a soft inflatable target, FAB Dock ensures novice navigators can 'bump' their boat into position with ease, which eliminating stress over the nicks and scratches that may occur during the typical berthing process. The dock is then raised using their vessel's onboard battery, or even solar power. 
For floating docks that are cost-effective, time-saving and easy-to-use, call the team at FAB Dock on 1800 254 088 to discuss better protection for your boat today!
There's no denying it. It's heavenly being out on the water when the skies are clear and there's a light breeze blowing off the ocean making gentle waves, which are shimmering in the sunlight. Or maybe your idea of heaven is the adrenaline rush of sailing a maxi-yacht through a big swell. Either way, what's not so blissful is having to worry about damage to your boat due to too much time in the water. When it comes to maintaining your vessel, the benefits of using a boat dry-docking system are many, but you have to make sure you have the right one.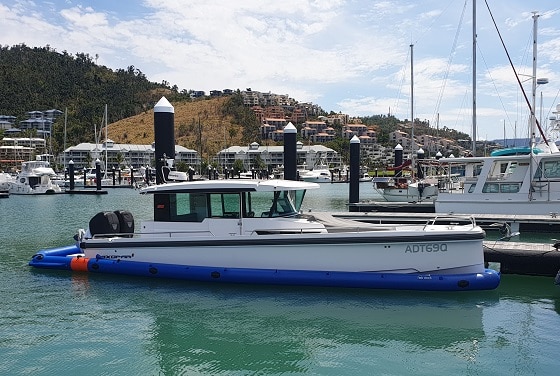 As a boating enthusiast, you value your time on the water, so you'll also value owning the best way to look after your vessel when you're not using it. A FAB Dock boat dry-docking system offers an ideal alternative to mooring your vessel submerged, whereby you have to apply chemical anti-fouling systems, which are damaging to the environment.
If you enjoy the marine lifestyle and respect the sensitive ecosystem of the sea, berthing your craft above the waterline is imperative to maintaining its condition and value overall, while helping protect the ocean and the creatures living in it. Saltwater combined with the sun's UV rays provide a harsh home for your beloved boat, so give her a reprieve from these tough conditions with a system that is really easy-to-use, cost-effective and eco-friendly.
Designed in 2011, and engineered to lift many types of boats, including keel yachts and power cruisers, the FAB Dock boat dry-docking system has a patented out-of-water sensor system that allows for various boat drives, including outboard, inboard, shaft, jet and IPS drives.
The dry-dock is simple to use, runs on a 12-volt power outlet and is completely self-contained, doing away with the need for external control boxes and power cords, which are a trip and electricity hazard along the jetty.
FAB Dock boat dry-docking system can be custom-built to fit vessels up to 100-feet-long, which include reinforced pockets around the drives, keels, intakes and rudders, so you're sure to find a solution to suit.
Whether you're an avid angler, a Saturday sailor or part of a racing crew, make your time on the water even more enjoyable, knowing your boat won't be exposed to the severe weathering conditions from extended time in saltwater.
For more information about the best boat dry-docking system on the market, contact FAB Dock in Australia, New Zealand or the United States.