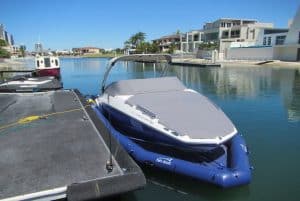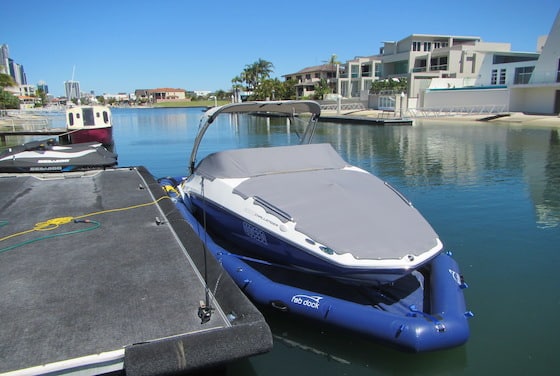 For decades, maintaining and repairing marine vessels has been an unrewarding task for boat-lovers the world over. The harsh conditions of saltwater have been a mighty adversary of submerged hulls for as long as our ancestors have been on the oceans. Whether you're a professional boat mechanic or an avid saltwater angler repairing your own craft, there's a better solution for you; FAB Dock has plenty of applications of dry docks for sale to help you with all your marine maintenance issues.  
Historically, diving beneath the surface to scrape off barnacles and patch up areas of deterioration is a dangerous and difficult task. Putting your boat into a professional dry dock once every so often is expensive and often results in a recommendation of environmentally harmful anti-foul applications to ward off future barnacles. FAB Dock offers a range of versatile inflatable dry-docking solutions that do away with the reoccurring upkeep of vessels, both small and large.  
When it comes to repairs, dry docks for sale cater to a large scope of boats and here at FAB dock we pride ourselves on making our product easy to use. Our Universal Range is, as its title suggests, the most conventional of these, but our Multi-hull and Custom Build options enable us to build for boats up to 100ft long. 
Not only will a FAB Dock inflatable dry dock help maintain the condition of your boat, if your vessel does require repair work this will be easier to carry out when your craft is not in the water. 
On FAB Dock's Multi-hull dry dock, each hull is supplied with an individual pumping system, which allows the water around the boat to be drained much faster. This reduces time spent on the repair and allows you to get back on the water twice as fast. 
Dry docking systems ensure that boats will receive fewer knocks and scrapes than if you were using a slip-off mooring system. Boatowners won't have to contend with their craft being knocked around by changing tides or unpredictable water levels. The ability to order your dry-dock to your exact specifications helps eliminate future problems while your vessel sits snug above the waterline. 
Previously, dry docks have been large industrial structures used in commercial shipping yards. Now there are dry docks for sale to the public for almost any marine application you can think of, including yachts, runabouts, powerboats, cruisers and multi-hulled launches, such as oceangoing catamarans, and more. Their accessibility and general affordability helps sailors spend far less time re-patching and far more time exploring local waterways for pleasure.  
For both domestic and commercial boat owners alike, dry docking systems offer the most in terms of convenience. Find out which is the best fit for your boat by talking to the experts at FAB Dock today, so we can provide quotes for our full product range.