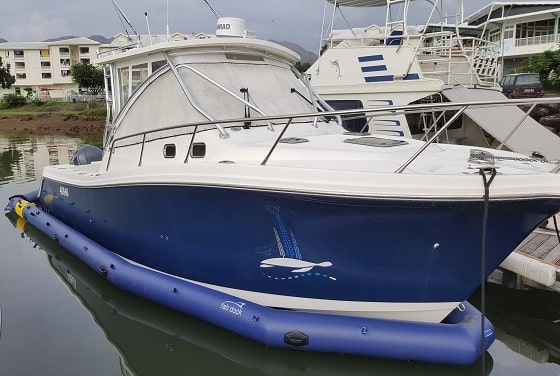 Any boat owner who's experienced the misfortune of scraping pesky barnacles off their hull will attest that storing your vessel in open water is never a good idea. While your watercraft may be designed to handle the worst of the ocean, deterioration and aquatic build-up comes quickly when your vessel doesn't have a break from the unrelenting saltwater environment. 
Typical solutions to this ever-present problem involve costly, repetitive, and ecologically harmful methods, which often fail to achieve the long-term results you're after. Luckily, an easy-to-use and effective alternative exists in the form of Fab Dock, the latest dry dock innovation taking the maritime world by storm.
Drydocking involves hoisting your pride and joy out of the water when not in use, so it can remain as clean and sea growth-free as possible. As hull cleaning was formerly a much more costly and infrequent exercise, advances in inflatable technology mean any seafarer can enjoy the benefits of dry docking, while keeping their vessel high and dry indefinitely.
Boatowners can do away with the annual coat of harmful anti-foul treatment. Not only will this save owners time and money, it helps preserve the purity of the waterways for boat lovers to enjoy. Anti-foul contains a toxic copper substance, which while keeping your boat temporarily barnacle-free, poisons the precious marine ecosystem. Furthermore, owners may find the performance and resale value of their vessels affected by this harmful practice.
Indeed, the benefits of dry-docking are far from solely environmental. Fab Dock users find that berthing their boat has never been quicker or easier. A soft inflatable target to aim for means even amateur navigators don't have to worry about scratching, bumping, and damaging their vessel during the docking process. 
Once in position, Fab Dock is operated without the need for a shore-based power source. The 12-volt system runs from the boat (or a solar-powered outlet) and is enough to shore up your watercraft safely in no time.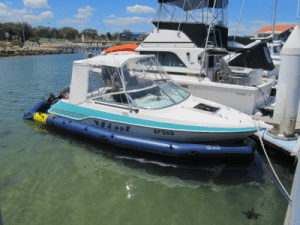 A simple, environmentally friendly, and cost-effective solution to help keep your vessel shipshape, Fab Dock is the dry dock solution of choice for owners of most sizes of boats. Give the industry experts a call today on 1800 254 088 to start enjoying all the benefits this exciting technology has to offer.