With his son enjoying an overseas holiday for Christmas, Les took delivery of the first FAB Dock to be installed in Gladstone.
I have heard many stories about just how bad sea growth is in various marinas and rivers around the country, but Gladstone has to take the cake. You can just watch the stuff growing on your boat.
And with an extremely shallow draft and a tricky crosswind, Les was also very appreciative of the ability of the FAB Dock to make berthing so much easier. He can hardly wait for his own one to arrive in a few weeks time.
Step 1
Step 2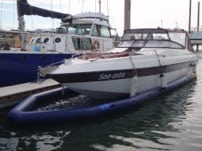 Step 3