For those immersed in maritime culture, the dilemma of docking your pride and joy will be all too familiar. While some common cumbersome methods demanded repetitive and costly maintenance, an inflatable alternative, FAB Dock, is making waves among seafarers in the know. 
Below are 5 reasons your boat will love this ingenious dry-docking solution:
1. Your vessel will be protected from the ravages of the harsh marine environment – The peace of mind for boat owners to know their boat is sitting dry at water level when it is not in use tops the list. A FAB Dock safeguards not only your hull but legs, shafts, propellers, and inlet pipes, from succumbing to nasty sea growth and other build-up. No more diving under the boat to clean it before you hit the water.
2. Your boat's appearance remains ship-shape – Any seasoned boater will be well versed in the 'ramp rage' and docking dramas that can mar an otherwise successful day on the water. FAB Dock's inflatable system means even novice owners can single-handedly and painlessly 'bump' their vessel into position, eliminating the risk of nicks and scratches scarring the hull.
3. FAB Dock keeps your hull free from harsh chemicals – With your boat kept dry when not in use, you eliminate the need to keep barnacles at bay via a yearly re-coat of the ecologically harmful and toxic anti-foul solution. This not only saves time and money but also preserves the health of the waterways themselves.
4. FAB Dock can suit vessels of any size, shape, and drive type – From 17ft to 100ft, the experts at FAB Dock are yet to encounter a boat they can't custom. Even wakeboard vessels, with their unique hull design, can enjoy the extended life, cleanliness, and increased resale value offered by dry docking.
5. FAB Dock keeps your boat at its best for years – Boasting easy self-maintenance and transportability, the FAB Dock is a great long-term solution, which has been tested in even the harshest saltwater environments. Savings in fuel and maintenance alone mean boat owners find the system can pay for itself in as little as three years.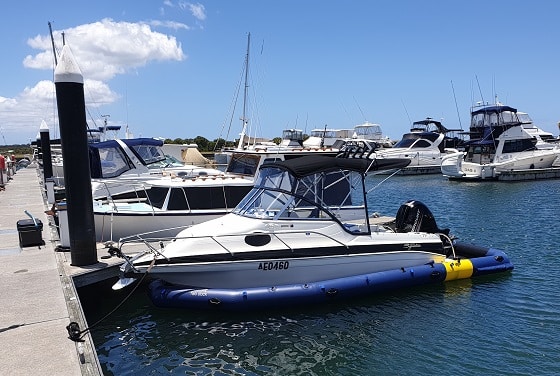 To treat your boat (and yourself) to the many benefits that a modern dry-docking system has to offer, contact marine industry leaders FAB Dock on 1800 254 088.