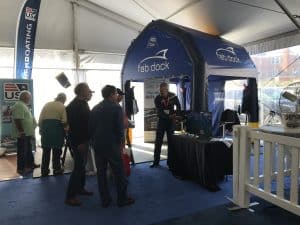 We all know that FAB Docks will keep your boat clean and dry and eliminate the need to apply toxic, poisonous antifoul, but a FAB Dock will also protect your boat in other important ways. All of our customers have found how easy a FAB Dock makes berthing their boat because of the 300mm (12 inch) tubes that they have to bounce their boats into. Well, those big bouncy bumpers also protect your boat should a storm whip up in your local area.
Case in point: we recently exhibited at the Annapolis Boat Show (for the second time as we love both the show and the town) and we teamed up with a Annapolis Boat Sales to showcase one of their Key West boats in a FAB Dock. We were positioned on the outside dock at the show which was deemed the Demo Dock so that people could take these boats for test rides all day. Being the outside dock, it was also the most exposed should a north-westerly storm blow up. Which, being our luck at boat shows, it was always going to do. So on cue, a rather large storm blew in on Saturday night.
All the local people knew to remove their boats from the dock and go and hide them somewhere safer for the night, including a couple of big RIBS and other large boats and catamarans. Those out-of-towners who were already enjoying the local hospitality and had left their brand new vessels to the forces of mother nature were left to rue their decisions the next morning. It was not only a hangover that they were nursing, but thousands of dollars worth of damage. Which would have been much worse had the show organisers not managed to find our coil of rope on our stand with which to at least try and hold the remaining boats in place. Even the marina walkways did not escape unscathed with a pedestrian detour in place until one section was repaired and reattached.
The only boat that remained all night and was unscathed in the morning was the little Key West that was safely tucked away in its FAB Dock all night. We arrived the next morning (not nursing too bad a hangover) to find it and the FAB Dock safe and sound and still dry. We just wish we had a video camera running all night to film the surrounding carnage and the performance of our FAB Dock.